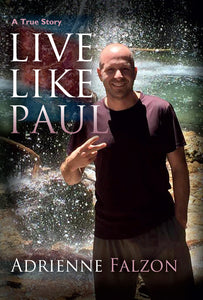 LIVE LIKE PAUL, By Adrienne Falzon
Regular price
$29.95
Sale price
$26.95
---
NEW RELEASE - Fall 2020!
LIVE LIKE PAUL is not only the journey of a mother after losing her dear son Paul,  but it's an observation and commentary by the author on all that she learned in the process of trying to heal her broken heart.
Readers will laugh and cry throughout as the author admits she did while writing the book. Be prepared for lots of controversial topics, transparency, thought provoking topics and lots and lots of photos!
It becomes quite clear that Paul was an exceptional human being, well known for his kindness, affecting everyone he came in contact with, as shown in the testimonial section of the book. These were just a few of the hundreds that were sent to the author.
After reading this book, one walks away with the realization and underscoring that the kindness of even just one person goes a very long way.
Biography - 448 Pages - Hardcover - Photos
DEDICATION: This book is dedicated to all who are committed to making this world a better place to live.To all those who understand that the title Live Like Paul means not only to live without prejudice and hostility but it also reminds us to spread kindness and generosity. It is the intent of this book to show that the lack of empathy has disastrous results, whereas love conquers all. May that message resonate with all who read this.
Reviews:

"Because of Paul, I have a clear road map of how to live and treat others for the rest of my life. He is a beacon of positive energy, and by example, lights a path for all of us to see. This path can be followed one word, one action, one breath at a time, day by day, year by year; consistent, unwavering, unmoving, solidly, and purely. Friendship and love towards those you know and to those you don't; to those you have met, and to those you will meet; doing good for the sake of good alone; acting as an example, as a role model, as a friend; always selflessly enhancing others with an unrelenting and passionate energy in life, for life. For me, this is Living Like Paul."      —Matt Shofman
"…He taught us all so much about how to truly love…Paul was an angel on earth." —Seamus Brophy

"…The world lost such a great person…I miss my best friend."                                        —Matt Harpring
"…Even at a young age he was deeply concerned about others. His caring and compassion for others was special." —John Hurley, Dean of Students, JJJHS
"I always knew Paul would be there for me. He was and is the most selfless person I've ever known. I honestly believe he made everyone he knew a better person. We can all learn from him. His impact will never be forgotten."                           —Mikey Dunworth
"In November of 2018, I attended a truly remarkable memorial service for a man I had met just once before. I encourage you to get to know Paul Giaccio, as I did, through the words of others, by reading the Testimonials section of this book first.  Then, return to the beginning and follow the journey of a man, unremarkable to passersby, who chose to find the good and in doing so, left a powerful imprint on so many.  Along the way, travel the heartbreak—the wrenching, fascinating, fearless, and winding—to the ultimate inspiration his mother was able to achieve in the face of immeasurable sorrow.  A wonderful attestation to the value of finding the remarkable that lies in all of us. Live Like Paul will ignite your soul."     —Karen Daboll
The last time I would see Paul. Atlanta, September 2018.
With Head Coach Bobby Cremins, Georgia Tech Basketball.
Equipment Manager, Atlanta Hawks Basketball


---