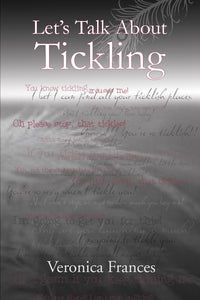 Let's Talk About Tickling, Veronica Frances
Regular price
$15.95
Sale price
$14.35
---
Let's Talk About Tickling is an honest, straightforward discussion about tickling. Discover the many different aspects of tickling—the fantasies, the realities, the many paradoxes of the tickling fetish and how to come to terms with ones own sensuality.

A refreshing and very welcome find, Let's Talk About Tickling is for anyone who wishes to expand their awareness of tickling and other related fetishes. This book will be of great interest to anyone who wants to get in touch with their sensual self, whether they have a tickling fetish or not.

Author Veronica Frances offers her readers the chance to improve their relationships in and out of the bedroom by shining a light on the powerful significance of tickling. She reminds us that tickling is not merely the whisper of a feather on the flesh. It is an echo that calls us from deep within, beckoning us to listen and respond.
ISBN: 9780990306887
Paperback, 6 X 9, 240 Pages

ABOUT THE AUTHOR

Veronica Frances is the author of the gutsy, no-holds-barred novel, Tickling Daphne H. Her new non-fiction book Let's Talk About Tickling sheds a refreshing new light on the subject. She is known as the TickleWriter in some circles.

Veronica also writes under her real name, Stacey Handler. Stacey is the author of The Body Burden; Living In The Shadow Of Barbie. Her book was featured in Jump Magazine, Australian Women's Weekly, The National Enquirer, and several other publications, radio shows and cable TV shows.

Stacey excels at public speaking, singing, composing, and writing. She is a singer-songwriter, poet, and has written in many different styles. She has an album and several singles available, including her two popular anthems, Ain't No Skinny Little Thing and Soap Opera Diva.

She lives in New York City, where she continues to write erotica, fiction, poetry and non-fiction.

TABLE OF CONTENTS:

A Personal Message To My Readers

Who Will Benefit From This Book

Tickling: Such A Powerful Word

Tickling Fetish? What's That?

Are You A Lee, Or A Ler?

Having A Tickle Buddy

Safewords

The Tickling Session

Verbal Tickle Triggers/Tickle-Talk

The Mind Rules Your Sensual Universe

Say Hello To Your Inner Child

The Importance Of Laughter

What Causes A Tickling Fetish?

Tickling And Mainstream Society

Romantic Tickling

Tickle Danger Zones

Tickling Is The Gateway To Sex

When Your Sex Life Needs A Good Tickling

Tickling As Foreplay

Tickling And Orgasm/Masturbation And Tickling

So, Your Partner Has A Tickling Fetish

The Importance Of Surrender

When Tickling Has The Last Laugh

The Vast Ocean Known As Tickling

Can Our Responses To Tickling Be Controlled?

Let's Talk About BDSM

Erotic Tickling vs. Tickle-Torture

Taking Tickling A Step Further

Tickle Games

The Tickle Communication Game

Surrender Ritual

Tickling Dice Games

The Music Tickle Game

Variation 1

Variation 2

Letting Tickling In

Feeling Alone With Your Tickling Fetish

When Tickling Becomes An Obsession

But, I'm Just A Nice Person With A Tickling Fetish

When Do You Pull The Feather Out Of Your Hat?

Gasps, Giggles, And Long Fingernails

Fantasy Versus Reality

Tickling In Art, Fiction And Imagination

Tickling In Mainstream Media/Tickling Videos

Is Tickling Really As Exciting In Real Life?

Busting The Constant Laughter Myth

21 Shades Of Tickling

Is There Really A Proper Way To Tickle?

My Reality With My First Tickle Buddy

I Just Want A Little Tickling, For God's Sake!

Is Tickling Considered BDSM?

A Fetish Within A Fetish

Tickling And The Muffled Speech Fetish

The Dance Of The Ticklish Foot

Arms Up Please - The Surrender Fetish

The Subject Is Armpits Part I

The Subject Is Armpits Part II

To Shave Or Not To Shave

Tickling And Blushing

The Beard Or Mustache Fetish

Feathers

Moving On To Deeper Waters

The Dominant And The Submissive/ The True Desire To Lose Control

The Frightened Lee

"No!!! I Mean, Yes!!!"

Thin Line Between The Bedroom And The Real World

The Tickling Fetish & All Its Paradoxes

Tickling & Humiliation

Part I Donna's Ticklish Armpit Waxing Fantasy

Tickling & Humiliation

Part II Strip Search Fetish/ Monica's Dilemma

Facing Your Tickling Fetish

Igniting Your Inner Tickle

About The Author